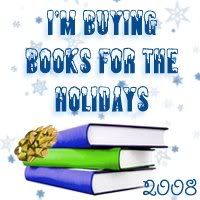 It's that time to start thinking about Christmas. Or...maybe it's just time to start
thinking about
thinking about it? Either way, I started seeing Christmas commercials right after Halloween, so it's coming no matter what!
I don't know about you, but I love Christmas! I love all of it! First and foremost I love the reason we celebrate it - the birth of our Savior. But I also really love the sounds, the sights, the smells, the tastes of the season.
Used to, when I was on the ball, I'd start making gifts in September so that I'd be finished on time. Well, 4 kids later that doesn't happen anymore. I still try to plan ahead, but sometimes I'm rushing around last minute trying to get my shopping done (and figuring out what to get).
What kind of Christmas shopper are you?
Well, here's a great idea! Amy over at My Friend Amy got together with some other book bloggers and came up with the idea to buy new books for the people on your list!
This has some great benefits: 1) you don't have to rack your brain thinking of what to get the people on your list, 2) the recipient gets the joy of diving into a great book, and 3) it will help the struggling book world.
In this technology hyped world today, the book industry has started to show negative effects as people are turning from books to gadgets for entertainment. What a sad, sad thing.
Amy has also made it easy on us to participate. They started a blog called
Buy Books for the Holidays
where you can
get information
about it,
sign up
(and grab the button for your blog), and they are also posting recommendations for various age groups. You can also ask for a recommendation if you're feeling stumped on a certain hard-to-shop-for person on your list.
So there you have it. Christmas shopping made easy!! Check it out!